SUMMARY
The US government is giving millions to university labs and private firms to stop domestic US citizen opinions on social media.
The National Science Foundation is taking a program set up to solve "grand challenges" like quantum technology and using it for the science of censorship.
Government-funded projects are sorting massive databases of American political and social communities into categories like "misinformation tweeters" and "misinformation followers."
Before we describe the "Science of Censorship" federal grant program that is the focus of this report, perhaps the most disturbing introduction is to watch how grantees of your tax dollars describe themselves.
In the promo video below, National Science Foundation (NSF) grant project WiseDex explains how the federal government is funding it to provide social media platforms with "fast, comprehensive and consistent" censorship solutions. WiseDex builds sprawling databases of banned keywords and factual claims to sell to companies like Facebook, YouTube, and Twitter. It then integrates this banned-claims databases into censorship algorithms, so that "harmful misinformation stops reaching big audiences."
Watch:
Posts that go viral on social media can reach millions of people. Unfortunately, some posts are misleading. Social media platforms have policies about harmful misinformation. For example, Twitter has a policy against posts that say authorized COVID vaccines will make you sick.

When something is mildly harmful, platforms attach warnings like this one that points readers to better information. Really bad things, they remove. But before they can enforce, platforms have to identify the bad stuff, and they miss some of it. Actually, they miss a lot, especially when the posts aren't in English. To understand why, let's consider how platforms usually identify bad posts. There are too many posts for a platform to review everything, so first a platform flags a small fraction for review. Next, human reviewers act as judges, determining which flagged posts violate policy guidelines. If the policies are too abstract, both steps, flagging and judging, can be difficult.

WiseDex helps by translating abstract policy guidelines into specific claims that are more actionable; for example, the misleading claim that the COVID-19 vaccine suppresses a person's immune response. Each claim includes keywords associated with the claim in multiple languages. For example, a Twitter search for "negative efficacy" yields tweets that promote the misleading claim. A search on "eficacia negativa" yields Spanish tweets promoting that same claim. The trust and safety team at a platform can use those keywords to automatically flag matching posts for human review. WiseDex harnesses the wisdom of crowds as well as AI techniques to select keywords for each claim and provide other information in the claim profile.

For human reviewers, a WiseDex browser plug-in identifies misinformation claims that might match the post. The reviewer then decides which matches are correct, a much easier task than deciding if posts violate abstract policies. Reviewer efficiency goes up and so does the consistency of their judgments. The WiseDex claim index will be a valuable shared resource for the industry. Multiple trust and safety vendors can use it as a basis for value-added services. Public interest groups can also use it to audit platforms and hold them accountable. WiseDex enables fast, comprehensive, and consistent enforcement around the world, so that harmful misinformation stops reaching big audiences.
As WiseDex's promo and website illustrate, they take tech company Terms of Services speech violations as a starting point – such as prohibitions on claims that Covid-19 vaccines are ineffective – and then construct large strings of keywords, tags, and "matching posts" to be automatically flagged by tech platforms' algorithms: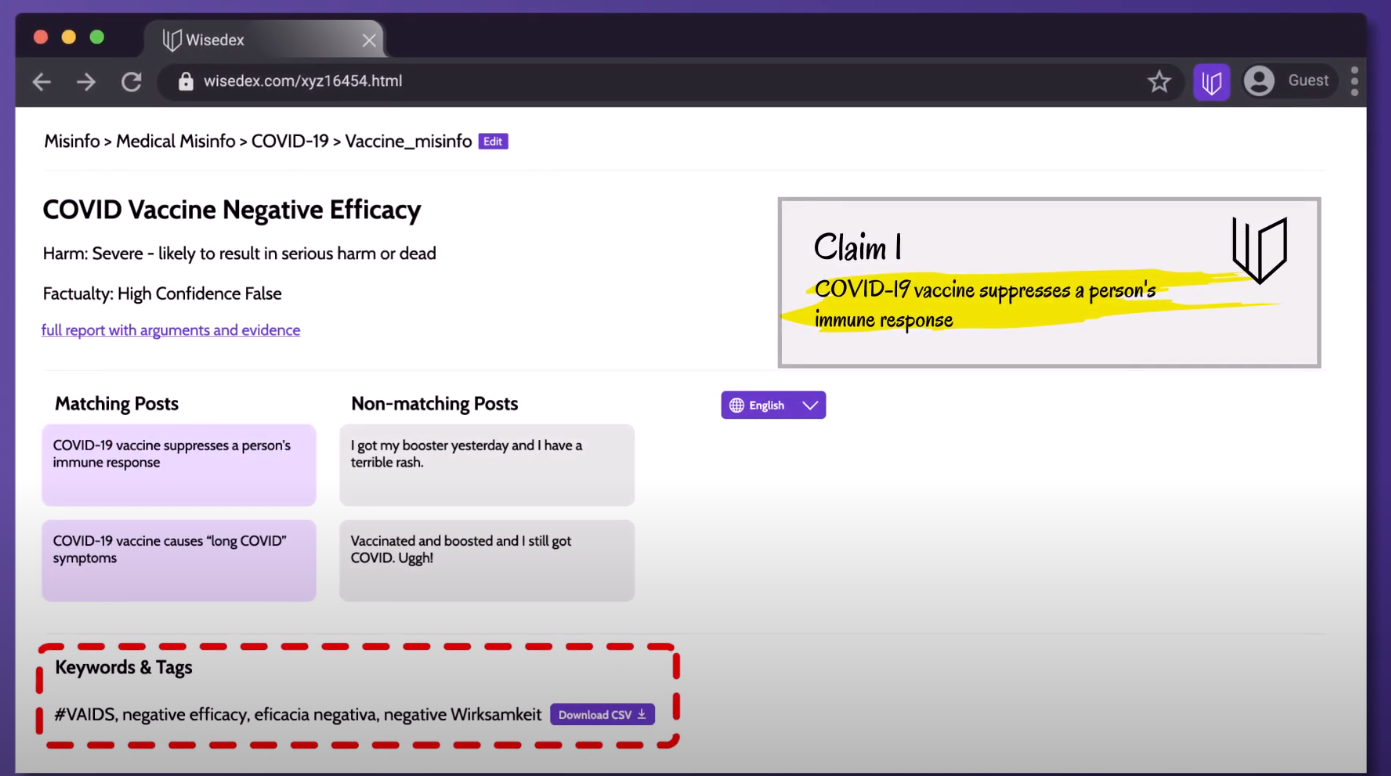 In the below image from WiseDex's censorship product offering, you can see their dashboard offers censors at tech platforms a percentage confidence level of tweets and posts to assess for violation of claims that Covid vaccines are ineffective. Below, for example, their AI tags a user's posts as 80% likely to violate a policy against claims Covid vaccines have negative efficacy. WiseDex then provides a dashboard for censors to remove or attach a warning label to such posts.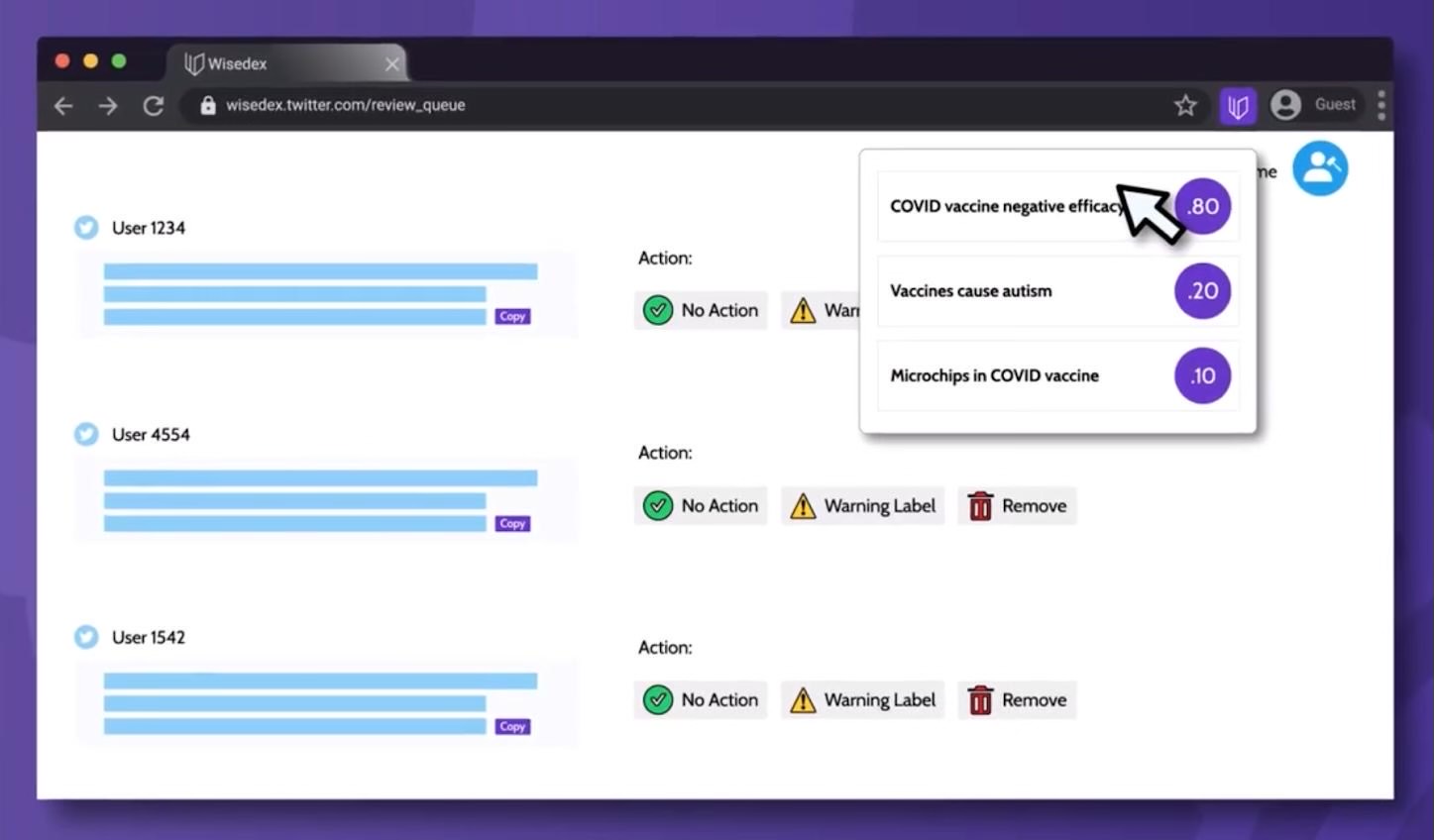 So WiseDex works by building sprawling databases of forbidden claims that match Terms of Services violations for social and political topics like Covid-19 and US elections. And the Biden Administration, via the NSF, is providing start-up capital for tech tools to get social media platforms to censor more aggressively.
In previous reports, FFO has covered the 
whole-of-society censorship model
 used to fund, launder and coordinate censorship activities between the federal government and outside partners: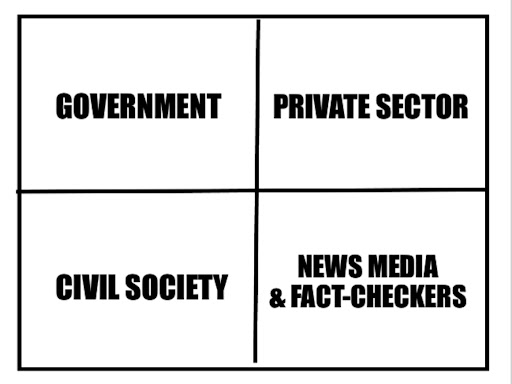 In the case of WiseDex, the censorship laundering works through NSF giving $750,000 in taxpayer-funded grants (plus another $5 million potentially available in the future) to 
disinfo lab
 at the University Michigan, which in turn creates a censorship technology product for the private sector social media platforms: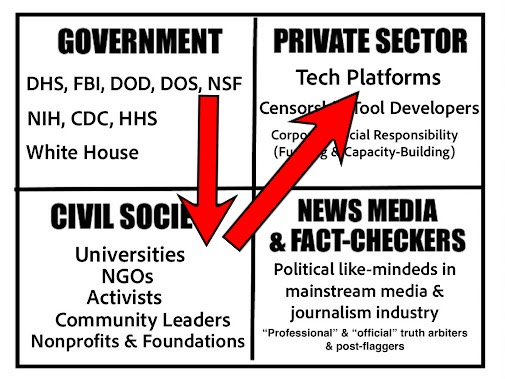 So with NSF censorship grantees like WiseDex, the end users of the government-funded tech product are the social media platforms who actually delete the flagged posts. With other NSF censorship grantees, like the Orwellianly named project "Course Correct", the end-users of the government-funded tech censorship tools are politically like-minded journalists and fact-checkers who flag posts to social media platforms for deletion or demotion.There, the censorship laundering process works as follows: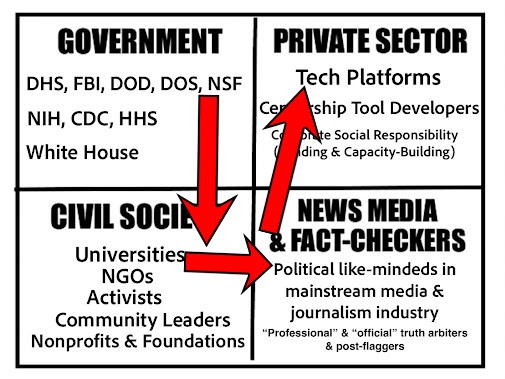 There are good journalists and bad journalists, and some of us make mistakes. That happens. So, that's a credibility issue. But when we have that already, mistrust of the public about what we do, when you have them going to alternative sources that are misleading them, sometimes on purpose, it is not good for us, in general, because we're getting bad information.

Without a common set of facts to move from, it's very difficult for us to solve the biggest problems that we have as a society. Course Correct is trying to nudge us into the direction of understanding and agreeing upon the verifiable truth for the foundational issues that we need to sort through as a society in order to solve the big problems that are currently vexing us.

We are building the core machine learning data science and artificial intelligence technology to identify misinformation, using logistics, network science, and temporal behavior, so that we can very accurately identify what misinformation, where misinformation is spreading, who is consuming the misinformation, and what is the reach of the misinformation.

The misinformation is coming from a separate part of the country or, you know, it is people with a certain perspective, a political view, who are sharing a certain misinformation. You want to be able to tailor the correction based on that because otherwise there's a lot of research that says that actually corrections don't help if you're not able to adjust or tailor it to the person's context.

And Course Correct has pioneered experimental evidence showing that the strategic placement of corrective information in social media networks can reduce misinformation flow. So, the experiments we are running are able to help us understand which interventions will work. And so by testing these different strategies at the same time, Course Correct can tell journalists the most effective ways to correct misinformation in the actual networks where the misinformation is doing the most damage.
So here, the federal government is paying a civil society group to build a "digital dashboard" to "help journalists detect misinformation, correct misinformation, [and] share message interventions containing the verifiable truth into misinformation networks."
This means the US government is directly and deliberately sponsoring the construction of massive databases of "misinformation tweeters, misinformation retweeters, misinformation followers and misinformation followees."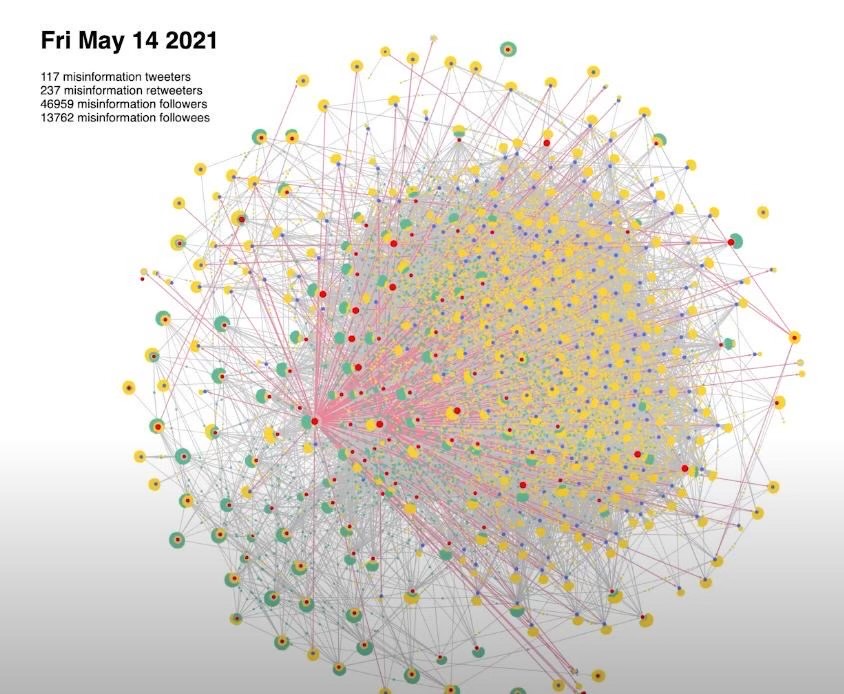 But it's more than just names of US citizens in a wrongthink database for ordinary opinions expressed online. The "dynamic dashboard" will also reveal relationship dynamics about the US citizens, who communities they are a part of, and who they influence and are influenced by: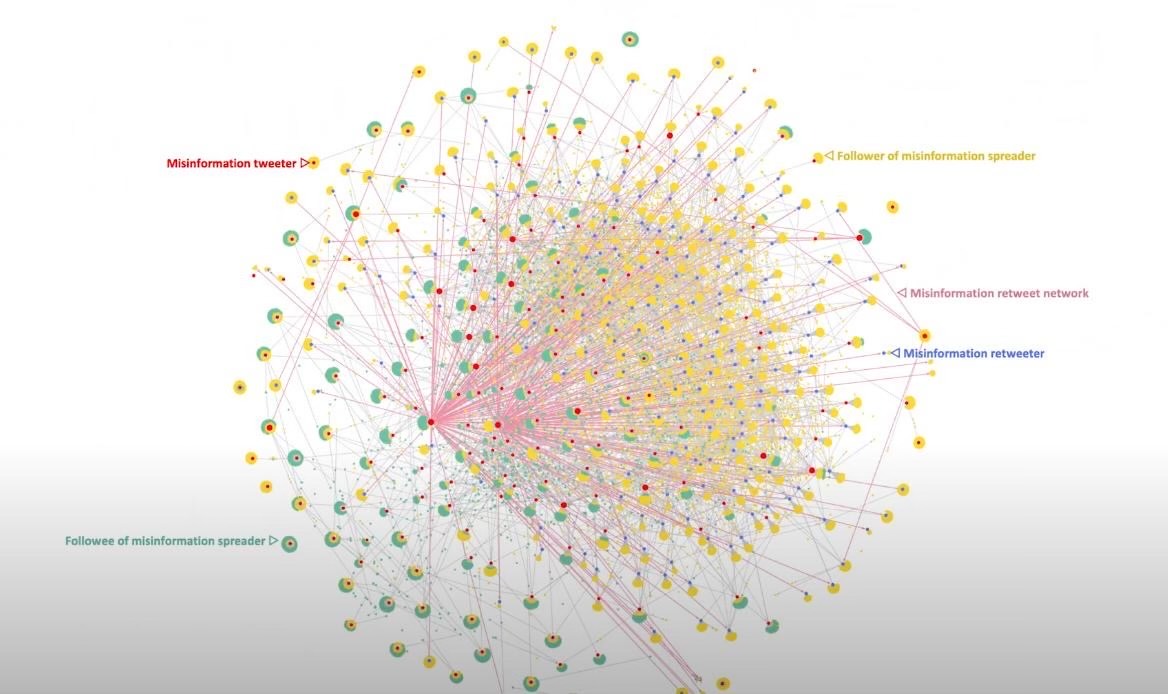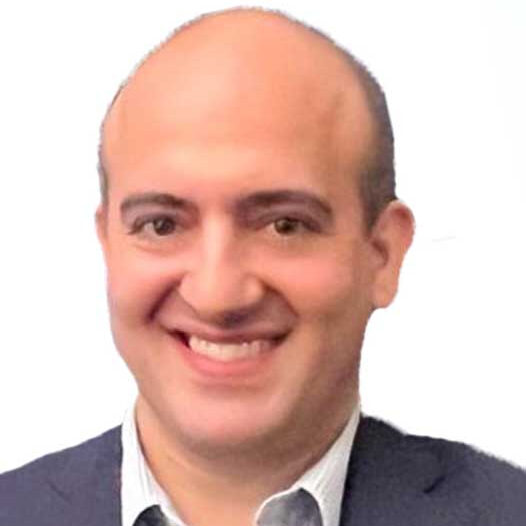 Michael Benz is the Executive Director of the Foundation for Freedom Online. Previously, Mr. Benz served as Deputy Assistant Secretary for International Communications and Information Technology at the U.S. Department of State. Follow him on Twitter @FFO_Freedom.